Breast Tax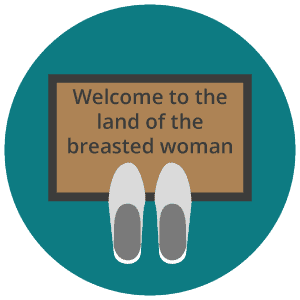 This tax was introduced in India in the early 1800s and was most certainly one of the more inhumane taxes.
Breast tax was enforced on women of lower caste, who had the audacity to cover their chests in public. One day, a brave woman by the name of Nangeli, who was a big opponent of Breast Tax, cut off her breasts in protest and placed them in a plantain leaf to give to the village officer (known as pravathiyar).
This had tragic consequences as Nangeli unfortunately passed as a result of the amputation. This left her husband devastated and he subsequently committed suicide by jumping into her funeral pyre.
The tax was then repealed, though unfortunately not before Nangeli and her husband died. The only nice thing to come out of this is that Nangeli has left a lasting legacy, as the place in which she lived was renamed as 'Malachiparambu' which translated to 'land of the breasted woman.
Now we give people the term 'iconic', 'inspirational' or 'legend' far too easily today, however I believe Nangeli is deserving of all of them. Had she not sacrificed herself, who knows how long this tax would have lasted for? She is also an example for feminists of today, of what historic issues they had to fight (though I wouldn't recommend performing any kind of amputation on yourself).
Think we can safely say that again, not everything was better in the good old days.