As Bitcoin proves on a daily basis, something is worth what someone will pay for it.  But, for any negotiation on price and value, you need a starting point founded in reality.  I'm writing this piece because our data shows that some food for thought might be welcome when it comes to figuring out what rate you'll ask a company for.
We looked at over 150 profiles of contractors who had provided both day rates and fixed term contract salary expectations when signing up with ContractElite.  The results were interesting.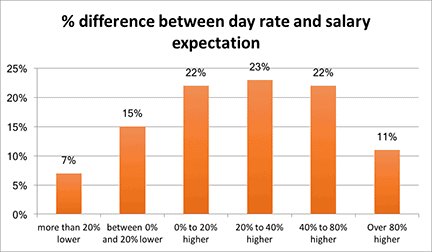 The chart shows how contractors have set their day rates relative to their fixed term salary expectations.  22% of contractors wanted a day rate lower than their salary expectations.  A further 22% wanted a premium of between 1% and 20% even though they get zero benefits, holiday pay and sick payment being a contractor vs. being an employee.  11% of ambitious and optimistic contractors thought an 80%+ premium vs. employed status costs would be a reasonable ask to a company engaging them.
To us, the only clear pattern to emerge from this data was that there was no clarity as to how to gauge the value of services when compared to a permanent employee.  So, some points to think about:
1. Know your permanent salary reference point
Many contract roles will have a permanent role equivalent and knowing the salaries companies pay for those roles is an important benchmark number.  Check job boards and company careers websites to get a sense of these numbers
2. Remember, your contract role is different
An obvious thing to state but, given that a) you don't get employee benefits, b) your client does not incur employer NI charges and c) your client gets more flexibility in terms of being able to terminate your contract at short notice, these all contribute to a justification for you to increase your day rate vs. a permanent salary expectation.  You'll also have expenses that you'll need to figure whether you include them inside or outside of the day rate.  Expenses aside, it wouldn't be unreasonable to charge a 5–15% premium to cover this
3. Remember, you're different
You're a contractor because you bring a depth of guaranteed skills and experience that often permanent employees do not have.  That's worth a premium.  Most organisations spend huge sums of money on developing their employees.  Most do not spend anything on developing contractors.  Why?  Because they assume you come "pre-developed" and that they are paying a contractor premium for this ready-made package.  Only you'll know what premium you personally command but it's reasonable to suggest that you should.
4. Think about the engagement process
If the company you're speaking with has been introduced to you via a recruitment agency, chances are they'll pay between 15-25% premium on top of your day rate.  Don't be fooled by recruiters who tell you clients don't think about this when looking at day rates.  More often than not, the costs come from the same budget, so they definitely will.  Companies that engage you directly will, therefore, have plenty more budget to use to improve day rates if they value your services – and statistics show that improvement averages at about 8%
5. Don't forget to work out how many days you'll not work
A rookie mistake to make but, in my first contract role, I forgot to factor in the number of days I would have as holiday (public and discretionary) or sickness.  These days could easily add up to 35–40 days in a year that you'll not get paid for if you don't factor into your day rate.  Also, you need to factor in down time between contracts.  You'll not always be able to guarantee a seamless move from one contract to the next, so be aware of this when you calculate your total number of likely days in a year you'll work. Factoring this in could command c.15% additional on your day rate.
6. Prove your value to employers
Whilst all the above is (hopefully) logical, it'll matter for little if you can't demonstrate your value to a buyer that will have a view on what your day rate should be.  The above will help justify your rate but you'll have to get the buyer to want to buy first.
Think about the specific value you are providing the company. Perhaps you have differentiating experience, skills or qualifications other don't have.  Perhaps you've delivered quantifiable results in a similar field that makes you more of a guaranteed bet. Whatever the edge you have, remember you do need an edge.  You're a services provider delivering outcomes and, in doing so, you need to sell the value of those outcomes.  Remember, you're an investment and if companies are going to pay a premium for their investments they need to know what they are getting in return.
---
Mark Lee is the CEO and founder of ContractElite, a UK-focussed marketplace connecting contractors to companies seeking contractors.  ContractElite provides a free-to-use platform for the UK's professional contractors to advertise their services to buyers ranging from big corporates, SMEs and recruitment businesses. Mark's career has seen him lead Korn Ferry's RPO business across EMEA and Reed's RPO business in the UK as well as advising numerous major recruitment businesses in an interim capacity.  He is also currently a non-executive director at one of the UK's fastest growing and innovative digital recruitment service providers.