Hearth Tax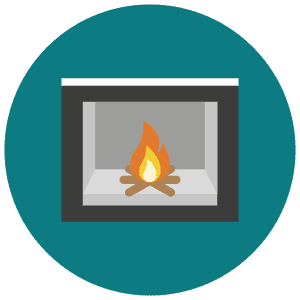 This was created in England in 1660, imposed in 1662 and lasted until 1689. Essentially the Hearth Tax was created as it was easier to count the number of hearths rather than heads. Parliament worked out that the Royal Household needed an annual income of £1,200,000 and Hearth Tax was thought to raise £300,000 per annum, though it never raised anything close to this figure.
One shilling was to be paid for every firehearth or stove in all dwellings, houses, edifices and lodgings. These were payable twice a year, Michaelmas on 29th September and on Lady day on 25th March. Therefore each hearth or stove was 2 shillings each year.
The poor suffered quite significantly at first as there were no exemptions to begin with, however exemptions were brought in in 1664. Exemption certificates had to be signed by either a churchwarden, a minister or an overseer of the poor and two Justices of the Peace.
The Earl of Exeter was very heavily taxed in 1673-1674 as Burghley House had 70 hearths, whereas most householders that were liable to pay the tax had only one or two hearths.
As with any tax, people will find a way to avoid paying it. This included people who blocked up their chimneys as a way to not pay tax, however if assessors found this out, their tax was doubled. The most extreme attempt at avoidance proved to be fatal. A baker decided to be cute and knocked through the wall from her oven, through to her neighbour's kitchen. This tax avoidance scheme in 1684 resulted in 20 houses and many other buildings being damaged by a fire, oh and four people's lives.
Even this fire, which had disastrous consequences was not enough to repeal the tax. It took another 5 years before this was to happen. The tax was unpopular and unsuccessful as it raised nowhere near the amount of revenue as it was intended, oh and a scheming tax avoiding baker caused a fatal fire resulting in the death of 4 people and a lot of unnecessary damage caused to people's homes.
I have never known of anyone in the modern day to cause 4 people's untimely deaths via tax avoidance. The good old days weren't always good.