Added Peace of Mind Tax-Free
A Relevant Critical Illness with Life Cover Plan offers some very special advantages to directors and employees of small businesses, most notably tax efficiency. Whilst the cover is personal to you and your employees, the policy will count as a business expense so it's tax deductible and does not count towards annual or lifetime pension allowances.
This has not been available in the market pre 2016. C&D Business Protection Specialists are excited to now offer Relevant Critical Illness Cover with Life Cover.
A quick guide to Relevant Critical Illness Cover with Life Cover
Relevant Critical Illness Cover (with built in Life Cover) is a tax-efficient policy, allowing companies to offer benefits to its employees (including salaried directors). It's set up by the company and pays out a tax-free, lump sum on the diagnosis of a critical illness or earlier death event (whichever is sooner) of the person insured. The proceeds go directly to the employee during a critical illness event or the employee's family / financial dependants in the event of a life claim.
Life Insurance can now be put through the business and treated as an allowable business expense. Taken traditionally to cover one's family, cover commitments like mortgages or simply to leave a legacy. Protecting yourself meant taking this sort of cover personally. Not so, with Relevant Life Cover, you can now take out Life Insurance and treat it as an allowable business expense meaning the same cover, cheaper!
Critical Illness Cover was once only available if paid for personally. Not anymore. We are now offering Life & Critical Illness Cover with the same tax benefits as Relevant Life Cover.
Quality Cover with the market leading conditions
Amazing value for money
Cover yourself comprehensively but tax efficiently
Spend as much or as little as you like, speak to us now to see how we can help you start saving and making insurance, that much better.
Here's How You Save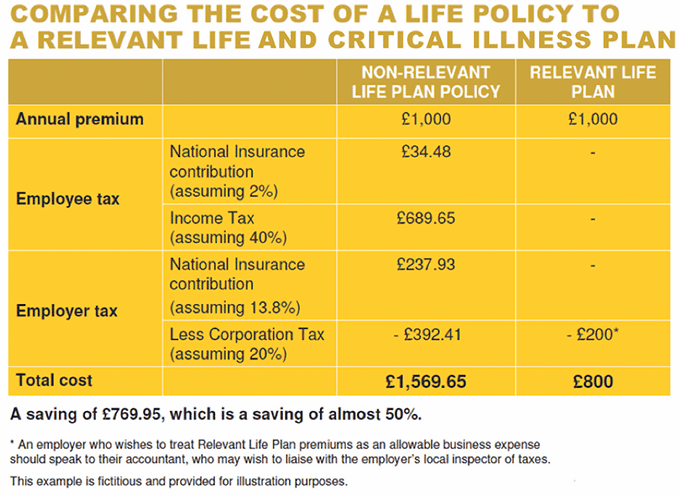 Please complete our online enquiry form and someone will be in touch shortly.
For more information, contact one of our Relevant Life Specialists:
By email: enquiries@candd.uk.com
By Phone: 0330 043 4321