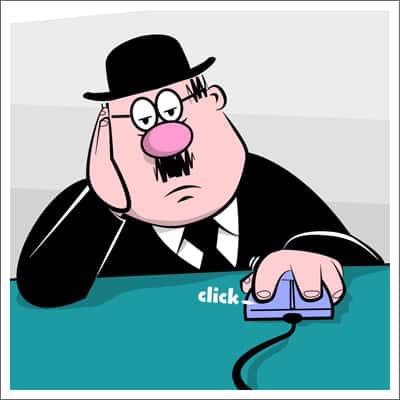 Bill Gates famously said: "Be nice to nerds. Chances are you'll end up working for one." What he should have said was this. "Be nice to nerds. Chances are you'll end up having your tax status prodded and probed by one."
Gone are the times when the taxman wore dusty suits, had a moustache that Nietzsche would envy, and read legislature instead of literature. Enter the 'new age' tax inspector, he uses Twitter, can out-dance Windows 8, and no doubt blows the heads off teenage boys every night on Call of Duty.
In recent years, Her Majesty's Revenue & Customs have stepped up a gear concerning their fight against tax avoidance, and in an age when computers, mainframes and processors are the wheels, cogs and pulleys of society, combatting tax avoidance is no different.
"The sheer amount of digital information the taxman can now have on you is nothing short of phenomenal" Tax expert Paul Aplin
Connect
Imagine a computer system that kept tabs on every living professional in the entire country. Imagine the power that one would wield if, at the mere click of a button, an elaborate spider's web of information could be viewed at will, connecting people with addresses, phone numbers, bank accounts and employers. Imagine a tax inspector, which at a glance, can detect a tiny pattern of financial concealment within someone's fiscal existence. Imagine Connect.
Connect is not a concept of the next new blockbuster sci-fi film, it is the ground-breaking computer system that HMRC are using to pinpoint tax avoiders.
Mike Wells, director of risk and intelligences services at HM Revenue & Customs, commented on the sheer ease of spotting tax avoiders through Connect: "Over time you get familiar with a normal person's spidergram. When someone is operating in a hidden economy it has a different shape. Its power is making it so much harder to hide from us."
The system was designed by defence contractor BAE Systems and launched in the summer of 2010. It cost HMRC £45m, but even by 2011 it had delivered £1.4bn of additional revenues, according to the National Audit Office.
Google
That's right, the Revenue is using Google to see who is paying their fair share… Ignoring the blatant irony that HMRC are using Google to pinpoint tax avoiders, they have confirmed rumours that they use Google Earth and Google Street View to home in on individuals that they suspect are guilty of tax avoidance.
By zooming in on back gardens and front drives, the Revenue can cross reference so called 'low-earners' with their properties and possessions. Now isn't that unnerving?
Social Media
We all know how much we like to brag on Facebook about holidays, cars, watches and whatever else we have had to take out credit cards to buy, but these immodest announcements could well result in an HMRC inquiry. Tax inspectors have taken to scouring social media sites to keep tabs on suspected tax avoiders (before you ask, it's NOT just for an excuse to scrutinise your 'Corfu 2012' photo album).
As much as these points are considered to be 'advancements' in our modern age, the fact that leaps in modern day technology are being used by the tax office to keep tabs on our lives illustrates an Orwellian existence that most of us would much rather ignore.