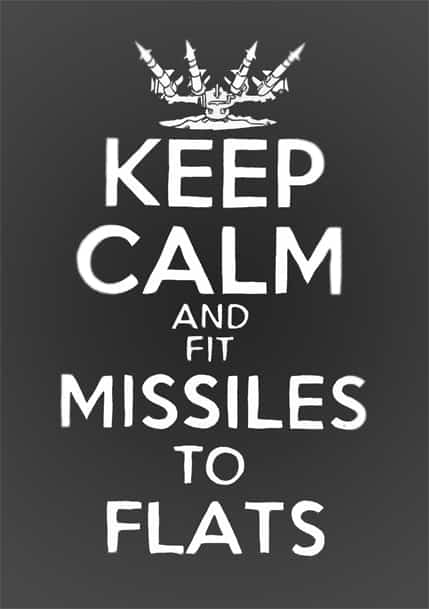 The Olympic Games: sport's most testing and challenging of competitions, where the most influential and dominant athletes from across the globe gather to compete in an event watched by millions. Thousands of years of history, culture, triumph and defeat played out in magnificent arenas, all in aid of honour, reputation and success.
What glorious, unforgettable mark is Great Britain making on this historic event? What lasting image is our beloved Britannia giving the eager eyes of the world?
The answer to this is of course, shoving metre long Rapier missiles capable of destroying a small village (or a large hamlet) on the homes of our proud citizens.
That's right, with a spur of youthful enthusiasm and mindless gusto the armed forces have, for some reason, decided to brighten up the dismal skyline of suburban London with shiny rockets and gleaming missiles, ready and waiting for a fantastic summer of sport. Although the 13 year old boy inside of me is just beside himself with excitement with the thought of having a heat seeking, world destroying projectile from the future sitting on my rooftop, the right minded human being I have become senses a teeny tiny snag in this otherwise fabulous utopia.
I can only imagine that the secretary of defence had just finished watching the Robocop marathon and had maybe sipped a bit too much merlot when making this call, but coming to the conclusion that the answer to the Olympics' security issues are strapping Londoners' homes with deadly warheads is just downright bizarre.
Now on first hearing this plan, most thought of it as a hoax, 'hurrah' was the reaction, 'at last the big wigs in charge are trying their hand at the proletariat art of comedy'. But alas, like some twisted move in an ominous game where, because of a re-shuffle in the fun draw, some of the canons from the Risk box had landed on the Monopoly board, citizens were left dumbfounded as reality struck and gigantic rocket launchers were ordered to be perched upon their homes.
It wasn't long before bomb experts and soldiers were piling into London flats and, before you ask, this time without the intention of getting their hands on mountains of cocaine and marijuana.
Now I hope you join me in asking here, WHAT ON EARTH IS GOING ON??! Of course security is an issue, of course nobody wants our lovely Olympic games to be ruined by the acts of few, but how can arming tower blocks to the teeth be Britain's best solution?
Should even the worst case scenario occur, gunning down a Boing 747 and blowing it to smithereens over residential London would be as much of a good decision as appointing Mr Blobby as our new ambassador for foreign affairs. I'm sorry to say this, but how can our proud nation 'Keep Calm and Carry On' when the first thing you see on a drizzly Saturday morning is a missile pointing into your front room?
All I can say is this, the Olympics is going to be a blast…