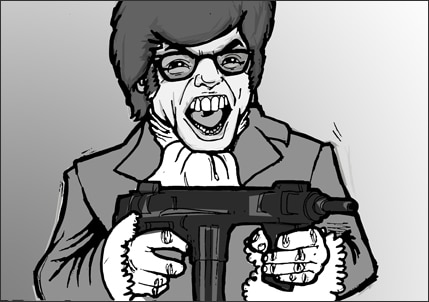 Oh Britain, great big bloody Britain, when will we ever learn? The jubilee celebrations, I think we can now all agree, were a bit of a washout. They were a washout for a number of reasons to say the least (having to watch Boris Johnson's hair shimmer in wonderfully crisp HD is but one example) but the biggest reason was probably because after stocking up on enough gin and shortbread to sink the QE2, all we really had to celebrate was an extra day off work.
Thankfully however, our nation now has something to finally rejoice… The Olympic Games is upon us! Oh yes, we are once again the hosts of the world's most eagerly awaited sporting event! (That is except of course for the World Cup, Wimbledon, The Ashes and The Masters…)
Now I don't know about you, but I'm almost sick of hearing about the Olympics already (despite this article). My qualm isn't with the fact that tonnes of taxpayer's hard earned money is being spent on state of the art swimming pools during this economic crisis, and it isn't even with the fact that the event's prime sponsor is one of the sole causes of childhood obesity (and spearheaded by a demonic red haired clown). My qualm with the Great British Olympics is the fact that fronting the whole charade isn't the great recognition of the real folk of the nation, or the 'little people' as the celebs would brand us. Oh no, instead almost every news story and Olympic headline you read these days is in fact commenting on what some jumped up superstar thinks about Tom Daley's abs. What ever happened to the real Brits?
My angst here first spawned when I saw Dorset's Olympic torch being carried by none other than the pride of the South West of England… Will.I.Am? I think that if Carl Froch isn't allowed to carry the torch for his home city of Nottingham, then how the hell did Los Angeles' Will.I.Am earn the position as torch bearer for the West Country? The Olympics is supposed to be celebrating the efforts of a nation, of real people who strive to their limits every working day, not foreign superstars who probably haven't ever heard of Worzel Gummidge.
The icing on this already aggravating cake has to be the rumours and whispers of the opening ceremony. With security as tight as Simon Cowell's trousers, what this mysterious opening event will entail is at this point, merely speculation and gossip, but there have been a couple of snippets of information let loose (thankfully not from Cowell's trousers). For no other reason than to keep the tabloids at bay (or to prevent us all from losing interest), the event's opening masterpiece has been released, and before you ask, this great endeavour will be opened not by a real life hero, not by a national treasure, and not by a great British sportsman…
It will instead be opened by none other than everyone's favourite fictional spy, James Bond, parachuting into merry old London, no doubt murdering a dozen faceless henchmen and bedding a few Latino swimsuit models along the way. This is quite clearly a cheap cop-out by our establishment, and I think that the powers that be should have just let Austin Powers loose around Albert Square armed with nothing but an Uzi 9mm and an unhealthy sexual appetite…
If nothing else it would have made excellent viewing, and would probably have been as relevant.
Having said this, this whole Olympic farce may well be a triumph, and you never know team GB may actually pull it out of the bag. After all, you know what they say about these things, third times a charm.