Contractor Weekly are encouraging donations for three year old Effie Hadman and her hard working family in a time of dire need.
Three year old Effie Hadman was tragically diagnosed with a rare genetic disease that has prompted her family to relocate to where Effie can embark on a brand new medical trial; a pioneering innovative treatment for her very rare disease.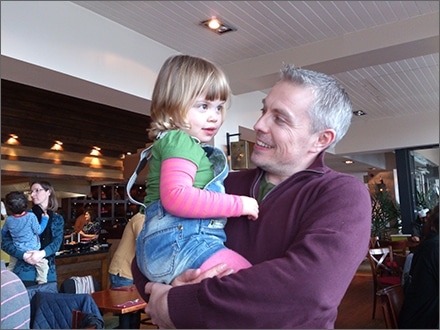 The Hadman family are hoping for Effie to have the chance to undertake a brand new medical trial which they hope will greatly increase her chances in overcoming a rare genetic disorder called Late Infantile Batten Disease, which leaves youngsters like little Effie with a life expectancy of between five and twelve years.
Her father Paul, a Leicestershire based engineering design contractor , has high hopes for this innovative treatment process, stating that "Effie is missing an enzyme, and this trial will replace that missing enzyme, so in theory it should work. It's never been done before on humans, so we don't know for definite if it'll help, but we've got to keep positive, not just for us but for Effie." The family's courage has shone through in such a difficult time, and they are now set to leave their home in the hope that Effie can receieve the treatment that she so desperately needs.
In December 2012, her parents started to notice she seemed run down and a month later she began suffering from seizures – with 10 in one day alone – and was diagnosed with epilepsy. As the year progressed, Effie's development halted and her mobility declined. After further tests, her family were given the devastating news in January this year that Effie had Late Infantile Batten Disease, a rare genetic disease, affecting just five children in the UK every year.'
Effie is set to take part in a revolutionary clinical trial, and her family are staying strong and positive, "We were told there's no treatment, there is no cure, but as parents you don't believe that" said Effie's mother Carly, "We spent hours and hours on the internet looking for any sign of hope; we're not just going to give up, we've got to give her every chance."
Batten Disease is an exceptionally rare disease that only occurs when, by chance, both parents are carriers, something parents Paul and Carly had been totally unaware of. There was also further trouble for the Hadman parents when they were told that there was a 25 per cent chance that their 10-week-old son, George, could also have the disease, but thankfully he is unaffected and therefore perfectly healthy.
"We felt completely helpless, a feeling of disbelief," said Carly on her daughter's diagnosed condition. ''We cannot bear the thought of losing our precious daughter to such a horrific disease. If we cannot halt the disease, she will lose the ability to do all the things she loves. She will lose her ability to communicate, to walk, and eventually her sight. Her life expectancy is short. It's devastating.''
They came across the trial medical treatment at Evelina London Children's Hospital on the Batten Disease Family Association (BDFA) website after eventually being told the cause of their daughter's seizures. The trial will involve a canular being fitted to Effie's head, and the enzyme will be fed into directly her brain every two weeks.
If the treatment works, it should stave off the disease, but as the enzyme only lasts two weeks, she would need the treatment for the rest of her life.
"It's a complete mixture of excitement that it might work then obviously you're terrified that you don't know what's going to happen," said Carly on the prospective treatment. "But it's the only option for us, the only other option was to do nothing. I would like to think it will buy us some more time at least."
Through the support and love of friends, a fundraising initiative has been started to help pay for the specialist equipment that is necessary for little Effie, as well as days out for both her and her family. Some of the money will also go to the BDFA to support research into Batten disease and help other families affected by it.
Her fund-raising page has already made more than £2,400.
To make a donation, visit
www.justgiving.com/gerry-lindup