We know that IR35 is going to be with us for the foreseeable future. We also know that there will be a significant increase in the number of enquiries, so there is no better time than the present to ensure you are well protected.
You often can't help the contract you are given, or the attitude of the client you are working for. But there are certain steps you can take to significantly improve your prospects of success should HMRC come knocking.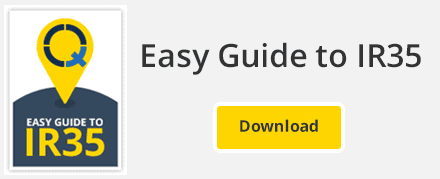 Compile evidence that shows why you consider yourself outside IR35. All contractors should have a contract review from a specialist, which could also include a review of your working practices. If this is positive, ensure you keep a record of it which can be produced in the event of an enquiry.

It would also be worth creating a simple document that sets out the key reasons that point towards you being a genuine business and not a disguised employee.

---

Exercise your right of substitution. On the face of it this may sound rather implausible, but HMRC will always consider substitution and personal service as the most important factor. If you were able to send a substitute in your place, even for one day, it would have a massive bearing on your status argument.

In the shadow of the recently introduced Agency Worker Regulations, agencies and end users are keener than ever to ensure their contractors are seen to be genuinely independent, so suggesting to them that you send a suitable replacement for a day isn't beyond the realms of possibility.

---

Take out business insurance. Holding business insurances (Professional Indemnity in particular) has always been both a key and easy way of strengthening your IR35 position.

HMRC consider having insurance as being an indicator of self employment, and included it in their much maligned Business Entity Tests. You can now buy the full range of policies (PI, EL and PL) for under £20 a month, so many contractors will consider it a no-brainer.

---

Buy or make company stationery. It sounds insignificant, but the little factors that indicate you are a genuine business really do help. In fact, the judge in the ECR Consulting case last year stated the following:

"ECR is in business on its own account. Elaine produced to the Tribunal copy business cards and company stationary. ECR operates from a dedicated business area at her home. It has company domain and website. ECR advertises its services and is a member of the PCG. It has retained reserves and invested in development and has over the years taken on fixed price work for a variety of clients."

So having things like business cards, letterheads and a company website can go a long way in an IR35 investigation. Worth it for a small outlay.

---

Put a 'confirmation of arrangements' document in place. As we know, an IR35 enquiry will focus on the actual relationship with your end client. The best contract in the world will be rendered worthless if it isn't backed up with compliant working practices.

HMRC will seek to quiz your end client about how things work in reality and when they do you're always on dangerous ground. Who knows what they will say when faced with countless leading questions?

IR35 specialists have always promoted the use of the confirmation of arrangements. It is a simple document that sets out the true facts of the engagement and should negate the need for HMRC to approach the end client.

The downside is that many clients are hesitant to sign an extra document , but you can reassure them that it isn't a legally binding contract and simply serves to confirm your tax position. The fact is that it will benefit all parties if you are subject to an enquiry.

You can download the confirmation of arrangements from Qdos, but always get it checked by an expert before you ask your end client to sign.