The EU referendum has been proposed for June this year, after Cameron pledged to hold a vote on the UK's EU membership as part of his election.
Most recent polls conducted by YouGov, present a record high support for remaining in the EU with 45% saying that they would vote to remain in the EU, and 35% saying that they would opt out.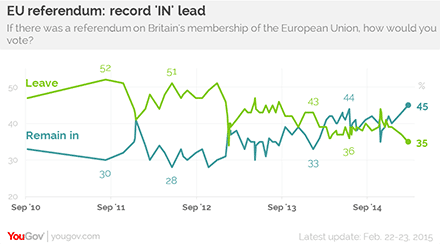 The biggest argument for staying within the EU, is the current free market among member countries, and the potential impact on the UK's economy if we were to remove access to this. Of course, we will still be able to trade with the same countries, but renegotiations would need to be made to trade agreements, and costs would likely be incurred, mostly effecting small businesses who may not have the funds to deal with the change, and thus lose competitiveness in the marketplace.
The majority of UK professional contractors work within the UK and are not involved in importing or exporting internationally, however, end clients may well be effected by this economic disintegration with EU countries, which may ultimately affect their ability to take on projects and therefore leave a lack of demand for contractors. On the contrary, it could also result in a loss of permanent employment, and therefore an increase in using a flexible workforce to provide skills where and when it is needed.

On the other hand, an argument could be made that by not contributing to the EU, the government would save a large amount of money each year, which could be used, in part, to supporting small businesses and entrepreneurship, and with more freedom, would open up more options for the UK's global trade.
As part of the EU, we have the right to live, work, retire, and trade with any country in the union. Contractors who work abroad within the EU would be most affected, as our borders would go up and the right to travel and work freely across the EU would cease, meaning that visas would be required and contracts in these locations more difficult to obtain. If you were thinking of retiring in the sun whilst still receiving your UK pension and state healthcare, you might have to think again.
There are of course, many reasons why we may wish to stay within the EU, and many reasons why we may wish to leave.
Have your say and take the poll: